At INFINITI of Coral Gables, we know that a new car is often the purchase of a lifetime. Buying or leasing an INFINITI and getting regular oil changes from our qualified technicians can help you get the most out of your INFINITI for years to come. Our service department employs a highly trained staff of mechanics with experience in every major vehicle make and model. No matter what type of car you drive, we're experts at maintaining it, so it will operate reliably for the long haul.
What Is an Oil Change?
An oil change is when the oil in your car is cleaned and replaced with new oil. This helps keep your engine running smoothly and prevents it from breaking down. There are different types of oils that are used for different purposes and in different engines — some oils are designed for high-performance engines, whereas others are designed for longer intervals between changes. Plus, depending on the type of engine you have, some oils may be more effective than others. At INFINITI of Coral Gables, we ensure every vehicle receives the oil change that's ideal for its make and model.
Why Do You Need to Get Your Oil Changed Regularly?
Here's a list of reasons that you need to get your oil changed regularly:
Proper Engine Lubrication
Getting the oil changed in your vehicle regularly is important for the health of your engine because your engine is dependent on lubrication. Proper lubrication is necessary for the functioning and long life of your engine. Synthetic oil particularly helps your engine last longer as it protects the engine from wear and tear, corrosion, oxidation, and heat. Synthetic oil is not only more effective at higher temperatures but also allows your car engine to run more smoothly.
Engine Maintenance
Getting an oil change regularly may prevent damaging components of your vehicle's engine through lack of lubrication, which can cause friction and heat that can lead to wear or corrosion. Synthetic oil particularly helps protect against wear and corrosion as it protects against oxidation and thermal stress caused by rapid temperature fluctuations in the engine's combustion chamber. When you get an oil change, the technician will thoroughly inspect the engine and the oil to ensure that everything is functioning optimally. Also, you will be able to notice any problems with your vehicle before they become extreme issues, which could prove costly later on.
Improving Vehicle Emissions
The Environmental Protection Agency (EPA) regulates your car's emissions. When you get your oil changed, the technician will thoroughly inspect your vehicle for any oil leaks and any other contaminants. Properly maintained engines have fewer emissions and the materials used in synthetic and conventional oils can help minimize damage to the engine from contaminants.
Fuel Efficiency
Increased fuel efficiency is a result of synthetic oil's ability to better lubricate the engine and reduce friction. Increased fuel efficiency will save you money by reducing the amount of gas that you consume. Also, synthetics contain additives that prevent corrosion and wear, which can further improve your car's fuel economy.
Why Get an Oil Change at INFINITI of Coral Gables?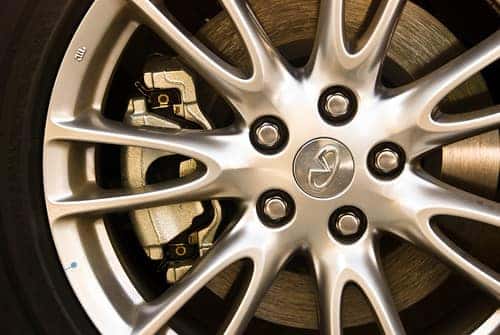 Image by gadgetdude licensed under CC BY 2.0
Here's a list of reasons that it is a great idea to get an oil change done at INFINITI of Coral Gables:
Certified Technicians
The service departments at INFINITI dealerships are staffed with highly trained, certified technicians. Engineers and other personnel with technical skills and experience conduct the training our technicians receive. We also provide them with the latest patented INFINITI equipment and the ongoing education necessary to service your INFINITI, both today and in the future.
Dedicated Support Staff
Our support staff is always available to answer any questions you may have, explain any warranties that apply to your vehicle, or assist you with scheduling an appointment. If you have questions regarding the service you receive, please don't hesitate to contact us. We hope that you will find our staff to be professional, courteous, and willing to go over and above your expectations. While we will always strive to exceed your expectations. We do our best to make sure that when you come to the INFINITI dealership of Coral Gables, you will leave well-pleased with the service you receive.
High-quality Products
The products used in our service departments are all high quality, scientifically formulated synthetics that deliver results on par with the oil of much higher price tags. The synthetic oils we use contain no lead or other harmful metals that can cause damage to your engine. We also use a scientifically formulated oil filter to get rid of dirt particles, stop leaks, and improve engine performance.
World-class Facilities
At INFINITI of Coral Gables, we have modern and fully equipped service centers where your vehicle's needs will be met with excellence and attention to detail, every time you take your vehicle for service or maintenance. From comfortable waiting areas to complimentary coffee and tea, there is no better place to get an oil change. Plus, you have the chance to look around at some of the newer models and maybe even take a test drive.
Premium INFINITI Service
At your dealership, you are assured of receiving premium INFINITI service and repair. Your dealership is directly affiliated with the INFINITI manufacturer and several corporate support sites ensure that your vehicles receive the utmost care. We know INFINITI vehicles inside and out and treat all of our customers' vehicles as if they were our own.
Efficient and Environmentally Friendly Oil Change Methods
Our service departments utilize efficient, environmentally friendly methods for all of our services. We will also recycle any waste oil, and recycling is our official policy at all INFINITI dealerships. All of the processes we follow are put into place to maintain the eco-friendly nature of all INFINITI vehicles.
You can contact our service department for an appointment at a time convenient for you, or, if you prefer, schedule it yourself from home via our website's appointment center. Our service department is open seven days a week, from 7 a.m. to 7 p.m. We look forward to serving your oil change needs any day of the week.
Directions To Our INFINITI Service Center