INFINITI InTouch App Features
INFINITI cars and SUVs are exceptionally well-made vehicles that impress in every way. Besides providing you with an exciting driving experience and an ultra-comfortable ride, these models are also equipped with an advanced infotainment system called INFINITI InTouch. This system comes with a wide range of features and programs to help you stay connected, informed, entertained, and safe on the road. Check out this detailed guide to discover how you can benefit from INFINITI InTouch.
What Is INFINITI InTouch?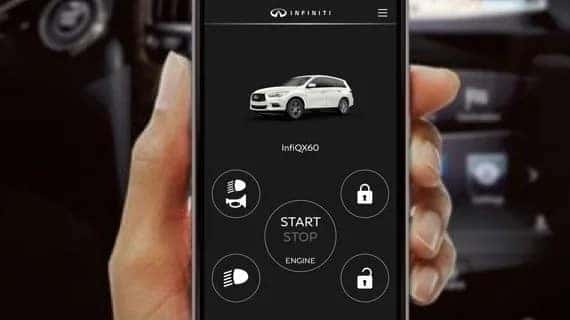 The INFINITI InTouch is an infotainment system available in every model in the current INFINITI lineup and certain late-model INFINITI vehicles. It serves as the command center in an INFINITI vehicle, allowing you to access your favorite connectivity and entertainment features easily. You can use the INFINITI InTouch app on your smartphone or the in-vehicle touch screen to control the functions of this system.
What Are the Functions Available on the INFINITI InTouch App?
With access to INFINITI InTouch, you'll enjoy your new or pre-owned INFINITI car or SUV with greater convenience, security, and confidence. This infotainment system offers a wide range of functions and features that can significantly improve your driving experience. These features are divided into the following categories:
Hands-Free Communication
Speaking on the phone or texting is a major distraction behind the wheel. It can cause you to become less aware of your surroundings and more prone to making mistakes that may result in an accident. With Bluetooth connectivity and voice recognition, INFINITI InTouch services makes it easier and safer for you to manage your connections. You can receive or make phone calls or reply to text messages using your voice, meaning you don't need to take your hands off the steering wheel or your eyes off the road.
Easy Access to Music and Entertainment
Whether you're stuck in traffic or going on a road trip, you can count on your INFINITI InTouch Services app to keep you entertained behind the wheel. This system comes with an array of features that allow you to access your favorite music playlists or entertainment apps, such as Bluetooth, Android Auto, and Apple CarPlay. Additionally, you can opt for the available SiriusXM's satellite radio all-access Platinum package to enjoy over 150 stations.
MySchedule With Google Calendar
INFINITI InTouch services not only provides you with a safer and simpler driving experience, but it can also make your life easier. With Google Calendar integration, you can keep track of your daily tasks and activities to achieve maximum productivity and efficiency. All you need to do is sync Google Calendar with your INFINITI vehicle, and you can view all the events of a particular day on your car's touch-screen display.
Remote Door Lock/Unlock
With the remote door lock/unlock feature of INFINITI InTouch, you can lock or unlock the doors of your INFINITI vehicle with your smartphone from a certain distance away. This means you won't have to worry about having your keys locked in your vehicle. Also, you can easily check the status of your car's doors from a remote location for peace of mind.
Emergency Services
If you happen to be stranded in the middle of nowhere because of a flat tire, dead battery, or another problem, the INFINITI InTouch app can help you get out of the situation easily and quickly. It has an SOS button that you can tap to request assistance from an emergency response specialist. If you're involved in an accident, you'll enjoy extra protection with the automatic collision notification feature, so you can focus on other things that matter.
Safety Settings
Another great function of the INFINITI InTouch Services is that it allows you to control the way and distance your INFINITI vehicle is driven. You can use the app to remotely set a maximum speed limit and designate a safe driving zone for your car. Once you've selected a safe driving zone, the system will alert you if anyone leaves its boundaries.
Stolen Vehicle Locator
Auto theft is one the worst things that can happen to a vehicle owner. To protect you from losing your vehicle to theft, the INFINITI InTouch app comes with an advanced technology for tracking your car. Therefore, you'll be able to quickly find and recover your vehicle when disaster strikes.
What Are the Packages Available for INFINITI InTouch Services?
Currently, INFINITI offers two InTouch packages: the INFINITI InTouch Services Select and the INFINITI InTouch Services Premier. On equipped models, the INFINITI InTouch Services Premier is included on a trial basis. The following are the lists of services available on the two packages:
INFINITI InTouch Select
INFINITI InTouch Action for Google Assistant.
INFINITI InTouch Skill with Amazon Alexa.
Vehicle health report.
In-vehicle messaging.
Maintenance alert.
Scheduled maintenance notification.
Remote door lock/unlock.
INFINITI InTouch Premier
Automatic collision notification.
Roadside assistance.
Emergency call.
Alarm notification.
Stolen vehicle locator.
Remote horn and lights.
Remote engine start/stop.
Maximum speed alert.
Drive zone alert.
Curfew alert.
Parked car finder.
Mobile information service.
MySchedule with Google Calendar.
Google "Send to Car" feature.
Connected search.
Journey planner.
Destination assistance.
Send destination to car.
INFINITI Personal Assistance.
The INFINITI InTouch Services Premier is free for the first year and then comes with a monthly fee of $12.99 for the next four years. Subsequently, it costs $24.98 per month. However, it's worth the extra cost considering that it comes with so many additional features. This package can help you to manage your driving activities, get out of emergency situations, prevent accidents or vehicle theft, and much moreIf you're planning to buy an INFINITI car or SUV in Coral Gables, Miami, Kendall, or Hialeah, Florida consider coming to INFINITI of Coral Gables to view our extensive selection of new and used models. If you already own an INFINITI and want to know more about the INFINITI InTouch app, feel free to get in touch with our friendly and helpful representatives. Contact us via phone, email, or our contact form.