Best Water Parks in Miami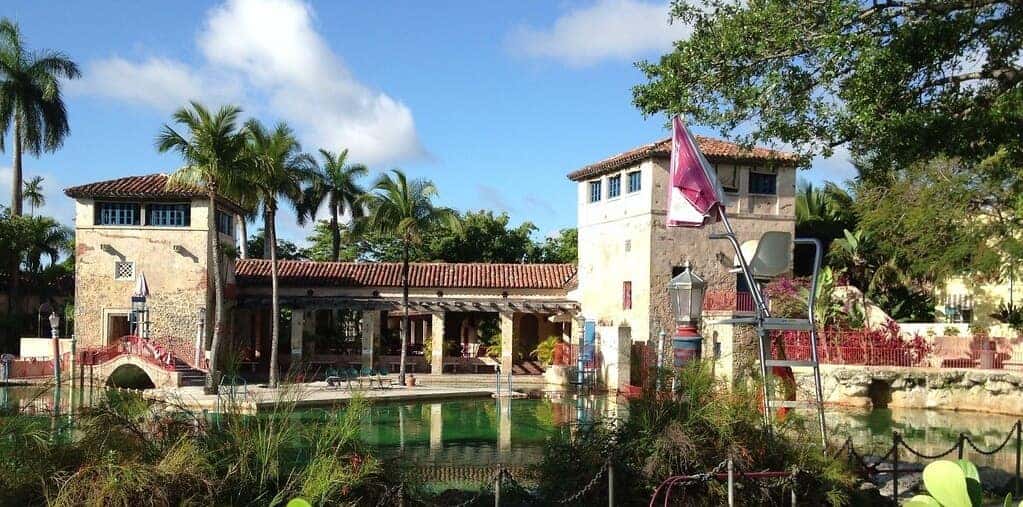 Summertime is upon us in the Sunshine State and sometimes we need a break from the heat. How do you cool off? When the saltwater beaches are crowded or cloudy, a water park is a great way to spend the day in Miami. Our list of the best water parks in Miami is compiled from our local staff members and their families. If we missed your favorite park, let us know! We'll be happy to expand our list to amplify the best Miami has to offer.
Venetian Pool in Coral Gables
The fastest way to get in the water would be to drive a mile west of the dealership to 405 University Drive in Coral Gables. The Venetian Pool is a local landmark. Built in 1923 from a coral rock quarry, the 820,000 gallon pool features natural coral borders, grottos, two waterfalls, and a pair of lookout towers. Every day in the spring and summer it is drained and refilled by a natural aquifer.
It's a great place to swim a few laps, have a cool splash, or enjoy a snack in the shade. The concessions stand features burgers, pizza, snacks, cold drinks, and a large variety of ice cream. Tickets are for sale online and they sell out quickly. Coral Gables residents get a significant discount.
The pool is just down the road at 2701 de Soto Boulevard. Feel free to call (305) 460-5306 with any questions ahead of time.
Grapeland Water Park, Miami
If you're looking for more speed, head north up Highway 953 and soon you'll find some great water slides. Most of Grapeland Water Park is kid-sized, so you'll find shallow pools, climbing platforms, water cannons, and low-speed slides. For safety, big and small children have their own sides of Shipwreck Island. Lifeguards are everywhere. Parents can lounge in the shade or float the Lazy River while the little ones cool off and burn energy.
With zero-entry pools, fun sculptures, and friendly swim teachers, Grapeland is a great place for children to learn to love playing in water. Find the park at 1550 NW 37th Avenue. Check online or call (305) 960-2950 for the swim lesson schedule.
Tidal Cove Water Park, Aventura
If you need more speed, you'll find serious velocity at Tidal Cove Water Park. Among their ten different attractions is the Aqua Drop. Get locked into the plexiglass tube and dropped nearly vertical from the sixty-foot tower. If you're ready for a workout, book time on the Flow Rider and wrestle the waves with a wake board. Children love the 4,000-square-foot Kids Cove filled with ladders, slides, water guns, and splash zones. Unwind at the Oasis Pool, Laguna Pool or Lazy River when you've had enough adrenalin.
Visit the park at 19999 West Country Club Drive at the JW Marriott Turnberry Resort. If you're staying at the hotel, admission is included. Call (786) 279-6152 for ticket information.
Miami Watersports Complex
Why slide down a tube of water when you can get out on the lake? Operating on Peregrine Falcon Lake is a company putting rookies on wake boards and serving serious pro water sports athletes. Miami Watersports Complex has a pair of cable courses where the rider is pulled through a course of jumps and rails. They offer lessons in water skiing, wakeboarding, wake skating, and knee boarding behind a boat. Their pros deliver fun summer camps and group retreats.
They also have an inflatable water park for the kids to bounce and climb on. Come challenge yourself at 401 East 65th Street in Hialeah. Call (305) 476-9253 for information.
Rapids Water Park
Open for over 40 years, Rapids Water Park is a favorite of kids and parents all around South Florida. The parents probably had their birthdays there when little. It originally had four slides on four acres, but it has grown to 35 slides on over 30 acres. It's about 75 miles due south of Miami, but worth it for all the slides. Besides, it's a great excuse to cruise down the coast.
Rapids splits it's rides into three categories: Kids, Family, and Thrill. Big Thunder sends you weaving through turns before dropping you into a pitch-dark tunnel. The Brain Drain features twin enclosed tubes that plunge the riders 70 feet straight down.
Bring the family down to 6566 North Military Trail in Riviera Beach. Call (561) 848-6272 for details.
McDonald Water Park
This 17-acre park is open to the public and maintained by the city of Hialeah. McDonald Water Park in Hialeah features a wave pool, multiple waterfalls, a lazy river, and a tot lot. There are multiple shelters, cabanas, and party areas plus a snack bar. It's a great location for a birthday party or just a quiet day under the palms.
The park is at 7505 West 12 Avenue in Hialeah. Call (305) 822-2931 for information about swim lessons.
Stay Connected With The Best Attractions Miami Offers
At INFINITI Coral Gables, we know you need to treat yourself sometimes. Maybe it's treatment at the spa or a detail for the car. Along with your family and friends maybe it's time to rip down a waterslide. We hope that you enjoy our list of the best water parks in Miami. Our local staff is always happy to hear about your family experiences in the area. Do you have a favorite water park we missed? Give us a call or a visit and we'll add it to our list.